Lotus Sweet Potato Flour 500gm
Lotus Sweet Potato Flour 500gm
$16.07 incl. GST
Lotus Sweet Potato Flour is sourced from Peru and packed in Australia. It comes in a 500gm re-sealable oxygen barrier bag to preserve freshness.
Lotus Sweet Potato Flour is gluten free, vegetarian, non gmo
Compare
Categories: Dairy Free, Egg Free, Fair Trade, Food, Gluten Free, GMO Free, Grain Free, No Added Salt, No Added Sugar, Nut Free, Soy Free, Vegan
Tags: Gluten Free, GMO Free, Low Fat, Low in Saturated Fat, No Added Salt, No Added Sugar, No Synthetic Fragrances or Colours, Vegetarian
Description
100% Sweet Potato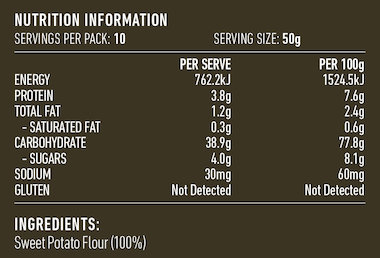 Only logged in customers who have purchased this product may leave a review.
Related Products
Astra 8® Immune Tonic boosts your defences against recurrent colds, flu and sore throats, and helps you bounce back from these minor infections.
Features and benefits
Herbs traditionally used in Chinese and/or Western herbal medicine to:
Enhance resistance against minor infections
Help reduce cold and flu frequency
Aid recovery after illness
Relieve fatigue
Improve stress resistance
Always read the label. Follow the directions for use. If symptoms persist, worsen or change unexpectedly, talk to your health professional.
How it works
Fusion Health Astra 8 Immune Tonic contains astragalus and Siberian ginseng.
Astragalus is considered one of the most important immune tonics in traditional Chinese medicine (TCM), where it's used to help reduce the frequency of colds and flu.
Similarly, Siberian ginseng is used to address lowered resistance to colds and flu in traditional Western herbal medicine, and both herbs have been shown to support healthy immune cell function.
Feeling run down?
Fatigue, stress and reduced immune health often occur side by side. In addition to their immune-supporting properties, astragalus and Siberian ginseng are regarded as having anti-fatigue actions and are used to raise vitality in traditional Chinese and/or Western herbal medicine.
Siberian ginseng also supports the body's natural resistance to stress, as does the traditional Chinese herbal medicine schisandra.
Also available as a herbal liquid.