Lotus Seed Tapioca (Sago) 375g
Lotus Seed Tapioca (Sago) 375g
$4.95 incl. GST
Lotus Sago, also known as saksak, rabia and sagu, is the starchy inner trunk of the sago palm. It is gluten free, low in fat and used as an energy boosting ingredient in soups, puddings and smoothies.
Compare
Categories: Food, GMO Free, Organic, Vegan
Tags: Colours or Preservatives, Gluten Free, GMO Free, Low Fat, Low in Saturated Fat, Low Salt, Low Sugar, No Added Salt, No Added Sugar, No Artificial Flavours, Vegetarian
Description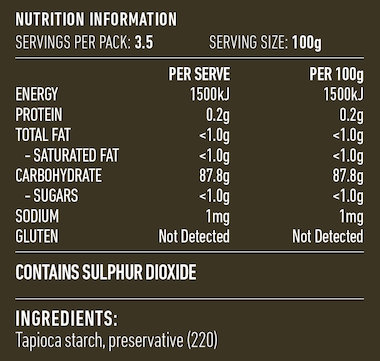 Only logged in customers who have purchased this product may leave a review.
Related Products
Contains clinically-trialled strains which may be beneficial for some types of diarrhoea in adults and children.
Features and benefits
Reduces the risk of antibiotic-associated or travellers' diarrhoea in adults
Reduces the risk, severity and duration of diarrhoea in children
Supports a healthy microbial balance in the digestive system
Restores normal microbial balance after disruption by antibiotic therapy
Reduces abdominal pain in those aged 5-16 years old with medically-diagnosed irritable bowel syndrome (IBS)
Shelf-stable, suitable for travel
Suitable for adults and children over 2 years
Gluten-free and dairy-free
How it works
A combination of two evidence-based strains Saccharomyces boulardii and Lactobacillus rhamnosus GG
Saccharomyces boulardii (SB)
Whilst most people think of probiotics as being beneficial bacteria, particular yeasts can also act as probiotics. SB has been used for over 30 years to help relieve symptoms and incidence of diarrhoea caused by unfriendly bacteria, and is believed to work in several ways. For example, it helps prevent toxins secreted by some harmful bacteria from sticking to the cells of the digestive system and produces a substance that aids their breakdown.
Lactobacillus rhamnosus GG
When ingested, Lactobacillus rhamnosus GG "crowds out" harmful bacteria in the digestive system and competes for space and nutrients. By doing this, it prevents harmful bacteria taking up residence. Lactobacillus rhamnosus GG produces a substance that can assist in killing or reducing the number of harmful bacteria in the digestive tract, including a well-known bacterium that causes diarrhoea and vomiting as a result of food contamination.
REDUCING THE RISK OF DIARRHOEA
Diarrhoea may be caused by a number of things including infections, a change in diet and some medications. Antibiotic-associated diarrhoea can occur 2 – 3 weeks following the end of antibiotic therapy rather than during the treatment. Both Lactobacillus rhamnosus GG and SB may assist in reducing the risk of diarrhoea associated with antibiotic therapy in children, and SB may reduce the risk in adults. SB and Lactobacillus rhamnosus GG have also been shown to reduce the risk of travellers' diarrhoea in adults.